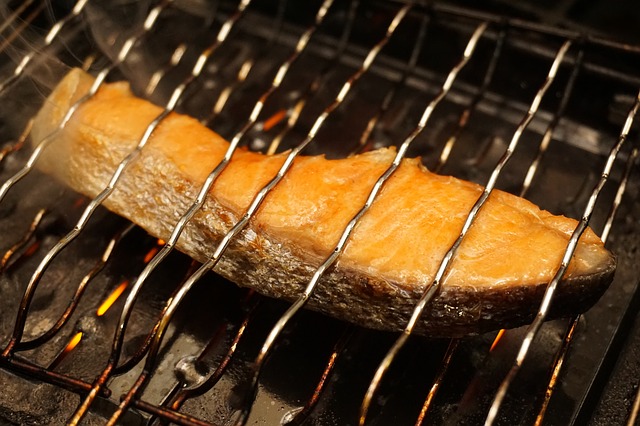 Datum: 04. 03. 2021
Autor: sedlfr
SUMMER GRILLPARTY WITH FRIENDS OR FAMILY A LITTLE DIFFERENT
Summer is still far away, but why not to get ready for it with a new recipe.
You can grill anything, meat, cheese, vegetables, such as eggplant, zucchini, but mainly a fish. We liked salmon, which children also like because it doesn't have bones.
Try our grilled salmon recipe with grilled zucchini and grilled stuffed peppers as it's side dish.
Grilled salmon with cream dip
4 salmon
finely chopped dill, finely chopped onion and crushed garlic clove
a cup of sour cream, 3 tablespoons of oil, lemon juice, salt and pepper
mix everything together and rub half the dip with individual pieces of salmon
after grilling the salmon, serve with the other half of the dip
as a side dish, you can serve spinach with baked potatoes
Grilled zucchini
Speaking of zucchini, I prepare it in the usual way.
I cut the zucchini into thin circles
salt and drizzle with olive oil
I grill on a hot grill together with thin circles of potatoes
We can't even grill as fast as everything is eaten quickly. 5-6 zucchini is suddenly gone, and nobody's searching for meat. Especially men, whether it's a marinated neck or chicken wings, are happy to wait for that. But our girls don't despise them either.
Grilled peppers
The peppers are often grilled as they are, but you can also try stuffed peppers. When I first tried it, this variant was a great success. Once you will taste it, you will always demand it.
5-6 long peppers, cut in half, clean (leave the stem)
fill with 100 g of Balkan cheese, Mozzarella or Feta cheese / cut into small cubes
mix about 5 leaves of chopped mint / or oregano with 2 tablespoons of olive oil
place on a hot grill and grill for about 5 minutes until the cheese melts
Wait a while for the released liquids to soak back into the cheese, but who would wait…. No one can last… .For adults we can drizzle with chilli sauce.
Napsat komentář
Vaše e-mailová adresa nebude zveřejněna. Vyžadované informace jsou označeny *