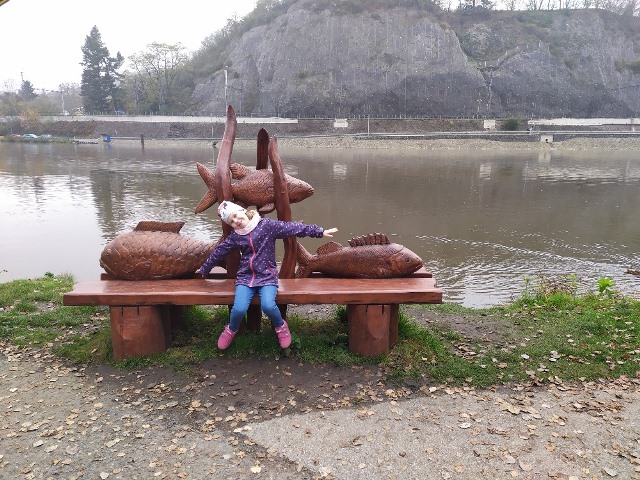 Datum: 04. 03. 2021
Autor: sedlfr
YOU CAN FIND THE BUTTER MUSEUM IN THE SMALL TOWN OF MÁSLOVICE IN THE CENTRAL BOHEMIA REGION
The Butter Museum is the only one of its kind in the Czech Republic. In the museum you can see everything related to the traditional production of butter, historical objects that were previously used, such as butter molds, centrifuges, butter churns and others.
The Butter Museum is opened on weekends only, but our family did not know that and went there on a weekday trip. That means we were not lucky, the museum was closed, but we found ourselves another fun activity. Near the museum there is a beautiful nature trail, which has 14 stops and is 1.2 km long.
There are various wooden "statues" created in 2003.
We recommend this trail to everyone. It is not challenging, but it is very informative.
You will learn something about the history of Máslovice, you will get information about this location and the surrounding places. Children will enjoy wooden climbing frames, swings and especially wooden sculptures. They will have fun there.
One would tell, that the town is named after butter, but it is not that so.
Once upon a time, a family called the Maslovci or Maslovici settled here. Today's inhabitants were inspired by the idea and inspired the name of the village to open the Butter Museum. Later, they expanded their activities with an educational trail, a bit unconventional, but extremely interesting.
In case you are looking for a tip for a trip with children, I am adding contacts to the museum.
Malé máslovické muzeum másla
Pražská ul. 3, pošta Vodochody
250 69 Máslovice
Email: muzeum@maslovice.cz
Phone: +420724191246
Napsat komentář
Vaše e-mailová adresa nebude zveřejněna. Vyžadované informace jsou označeny *